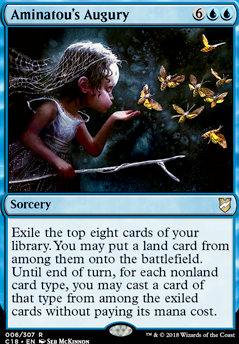 Legality
| | |
| --- | --- |
| Format | Legality |
| Tiny Leaders | Legal |
| 1v1 Commander | Legal |
| Magic Duels | Legal |
| Canadian Highlander | Legal |
| Vintage | Legal |
| Custom | Legal |
| Leviathan | Legal |
| Legacy | Legal |
| Duel Commander | Legal |
| Oathbreaker | Legal |
| Casual | Legal |
| Commander / EDH | Legal |
Animatou's Augury
Sorcery
Exile the top eight cards of your library. You may put a land card from among them onto the battlefield. Until end of turn, for each nonland card type, you may cast a card of that type from among the exiled cards without paying its mana cost.
Animatou's Augury Discussion
4 months ago
eerie343 for sure ill try to share a couple combos in detail for everyone. This will be a huge message so hold on!
The deck functions off the Fblthp and Proteus Staff combo. Fblthp being the only creature in the deck means that when you cast proteus staff on Fblthp he will be put on the bottom of your library and you'll reveal every card from your library until you reveal and then cast Fblthp from your library with Proteus Staff's ability. Before Fblthp is cast you are able to rearrange all the cards revealed this way however you want. So you can rearrange your entire library how you want and then draw two cards, just by targeting Fblthp with Proteus Staff for 3 mana.
Once you have rearranged your library and drawn the cards of your choice this is where it can get fun. Depending on your mana or board presence you may want to do other things but here are some combos I like.
To simply win the game you want to search and grab Jace, Wielder of Mysteries , High Tide if needed, and Tunnel Vision . You also want to make sure when you rearrange your deck to put a card on the bottom that you will remember. When you have the resources needed simply cast Jace and then Tunnel Vision. Target yourself with Tunnel Vision and name the card at the bottom of your library. You will then mill yourself to the last card of your library. Then activate Jace's +1 ability and win the game on the spot!
Another combo is grabbing Goblin Charbelcher and making sure you rearrange your library so that when you activate Goblin Charbelcher you will dig through 40 or so cards before revealing a land card so you then deal 40 damage to an opponent.
Saucier combo includes grabbing Animatou's Augury and High Tide when you have the mana cast High Tide and then Animatou's Augury to then cast for free Flow of Ideas (based off your proteus staff rearranging this needs to have you draw Blustersquall or a card like it, Frantic Search will untap some mana, and Part the Waterveil ) then cast Commence the Endgame for free with Animatou drawing some more cards and creating lets say a 8/8 amass token based on your hand size, hopefully even bigger! Continuing with Animatou's Augury you can then cast Octopus Umbra for free making the amass token a 16/16 because amass is +1/1 counters not base power. Then with your remaining mana you want to cast frantic search giving you extra mana if needed to cast Part the Waterveil . On your bonus next turn you can cast Blustersquall and swing in with your 18/18 amass octopus token to then start putting the pressure on hilariously.
Finally there's a Fblthp commander damage combo! Haven't done it yet but I'm pretty sure it works. You have to get Diviner's Wand out and attached to Fblthp as the combo includes drawing enough cards to make Fblthp able to swing in for lethal commander damage. Once this has happened and you have at least 7 mana, 5 or more cards in hand and you have arranged your library this certain way you can pull off the combo. Start by casting High Tide from your hand then Frantic Search . Draw Brainstorm and Blustersquall or a card like it. Discard two poop/not needed cards in hand. Cast Blustersquall for its overload. Cast Brainstorm , draw Flow of Ideas and put others back. Cast Flow of ideas. Draw 7 cards. 1 being an Island (lay this). 1 being a random artifact of your choice. 1 being Thirst for Knowledge and another being Windfall . Cast Thirst for Knowledge drawing more cards and discarding the random artifact. Cast Windfall drawing more cards. At this point opponent's creatures are tapped and your Fblthp should be at least a 21/21 with the help of Diviner's Wand . Swing in with FBLTHP for the commander lethal damage!!
No data for this card yet.