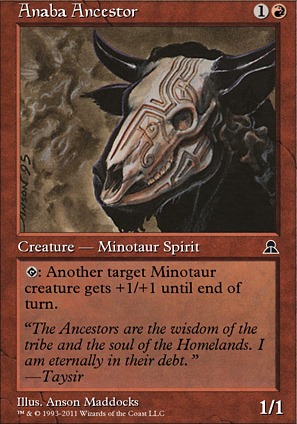 Anaba Ancestor
Creature — Minotaur Spirit
: Another target Minotaur creature gets +1/+1 until end of turn.
Browse Alters
View at Gatherer
Legality
| | |
| --- | --- |
| Format | Legality |
| Tiny Leaders | Legal |
| Noble | Legal |
| Leviathan | Legal |
| Magic Duels | Legal |
| Canadian Highlander | Legal |
| Vintage | Legal |
| 2019-10-04 | Legal |
| Casual | Legal |
| Pauper EDH | Legal |
| Vanguard | Legal |
| Legacy | Legal |
| Archenemy | Legal |
| Planechase | Legal |
| 1v1 Commander | Legal |
| Duel Commander | Legal |
| Oathbreaker | Legal |
| Unformat | Legal |
| Pauper | Legal |
| Commander / EDH | Legal |
Anaba Ancestor Discussion
2 years ago
Anaba Ancestor seems really bad- it doesnt get any real benefit from your commander because you have to not attack with it to maintain its ability, or its just a 2 mana 1/1. Plus, on board +1/+1 just is not a very powerful effect, even if repeatable.
Similarly, Flurry of Horns seems underwhelming. You have to get up to 5 mana, and then you get two vanilla 2/3s. This is the top end of your curve, and still does very little for you. Anything that is five or more mana should be really powerful. Thus, the cards that I feel are too expensive for their effect are: Flurry of Horns, Master of Cruelties, Warchanter of Mogis, Behold the Beyond (what three cards would you tutor for after spending 7 mana? There really isnt any way to use this to help you win- it can be a lot of value, sure, but youre probably off with either straight up draw or cheaper tutors to get your draw), Minotaur Aggressor, and then replace Plague Wind with In Garruk's Wake, at least. It is almost strictly better.
This deck seems like it could make use of a Whip of Erebos, if only for the life gain. You have a lot of pain effects, and Whip of Erebos is a very powerful artifact with both utility and circumstantial advantage.
A lot of your card draw comes from one time sorceries or Costly Plunder. It feels like this deck could use some more repeatable card draw, like Greed or Erebos, God of the Dead, or even some of the red psuedo draw like Outpost Siege and Chandra, Torch of Defiance. You may also want Phyrexian Arena, but you dont get to choose whether to draw that card. Other good cards for card advantage: Commune with Lava, Oracle's Vault, Stromkirk Occultist, Chandra, Flamecaller (wheel), vance's blasting cannons , Arguel's Blood Fast, Conqueror's Galleon, Ob Nixilis Reignited, Tamiyo's Journal, and The Scorpion God.
Ok I g2g, but looks good! looking forward to playing this!
2 years ago
hello DeepFriedwater, thank you so much for the suggestions cards, I'll look for some of then, like Door of Destinies, Aggravated Assault, Comet Storm, Fireball and Crater's Claws will definetely enter in this deck.
Mogis, God of Slaughter is in this deck since the very beginning, I think you miss it. I can't find Anaba Ancestor and Anaba Spirit Crafter, for being old cards, I also can't find Didgeridoo, which would be a very good card for this deck.
Any way, thank you, any update for this deck I'll post as soon as I can.