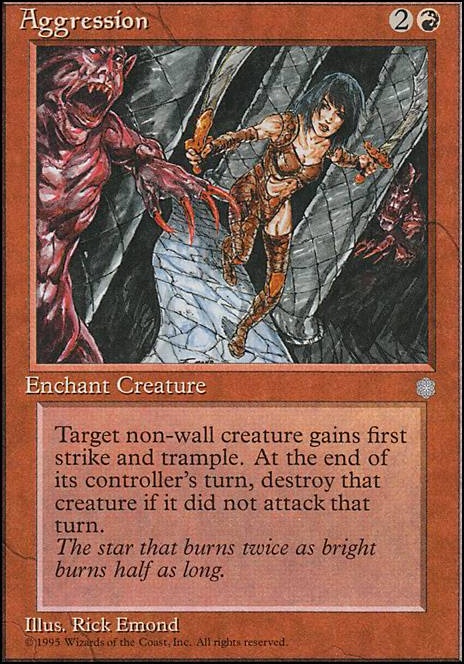 Aggression
Enchantment — Aura
Enchant non-Wall creature
Enchanted creature has first strike and trample.
At the end of enchanted creature's controller's turn, destroy that creature if it didn't attack this turn.
Browse Alters
View at Gatherer
Legality
| | |
| --- | --- |
| Format | Legality |
| Tiny Leaders | Legal |
| Noble | Legal |
| Leviathan | Legal |
| Magic Duels | Legal |
| Canadian Highlander | Legal |
| Vintage | Legal |
| Vanguard | Legal |
| Legacy | Legal |
| Archenemy | Legal |
| Planechase | Legal |
| 1v1 Commander | Legal |
| Duel Commander | Legal |
| Oathbreaker | Legal |
| Unformat | Legal |
| Casual | Legal |
| Commander / EDH | Legal |
Aggression Discussion
1 year ago
Hi,
that's quite an impressive list! A lot of artworks I didn't know of. But you also missed a few:
Aggression, Alexi, Zephyr Mage, Archangel of Strife, Azure Mage, Blood Cultist, Crossway Vampire, Deathless Angel, Elven Cache (6th edition), Fishliver Oil (9th edition), Game of Chaos (5th edition), Inkfathom Infiltrator, Jasmine Boreal, Juniper Order Advocate, Mortiphobia, Remembrance, Snuff Out (duel decks), Sylvan Ranger (M11), Tormented Angel, Vine Trellis, Vitalizing Cascade
2 years ago
The chump block 1/1 is always a pain in the ass, I feel your pain on that. There are ways around it however. First and foremost there is always flying. To fit with the vehicle theme Sky Skiff could give you another vehicle option that is harder to block. Additionally Pia Nalaar, although she doesn't benefit from Depala, Pilot Exemplar gives you a flier that can poke while also giving you a solid 3 worth of crew cost including the thopter. On the instant/sorcery Mighty Leap comes to mind as a decent utility card, or even Gryff's Boon as an enchantment. Board wipes seem lazy in this deck. Yes your vehicles wont die but everything else will and then you have to build up a field to crew again. Its a risk that may not be worth taking. If any board wipe Fumigate, which you use, or Phyrexian Rebirth seem like the only viable options. Fumigate being a reset and Phyrexian Rebirth putting you ahead if you ever come to the point where you need to wipe the board. Side note, Phyrexian Rebirth used against a token deck is absolutely brutal. Your final option is trample, but this is tricky as you can't use green. Aggression is a decent option but its nature makes it a bit annoying. The budget breaker is Akroma's Memorial. Bestial Fury could work but is unreliable. Built to Smash for a quick swing Rush of Adrenaline also works. Gruul War Plow is a bit iffy. Messenger's Speed I think that kinda sums it up. This deck has already come a long way and I'm so excited that vehicles are making their way into commander. Good luck hope this helped a bit.