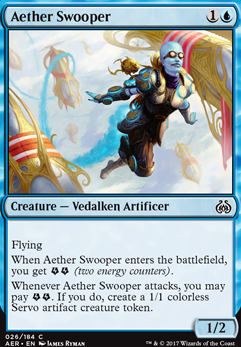 Legality
| | |
| --- | --- |
| Format | Legality |
| Modern | Legal |
| Legacy | Legal |
| Vintage | Legal |
| Commander / EDH | Legal |
| Duel Commander | Legal |
| Tiny Leaders | Legal |
| Standard | Legal |
| Pauper | Legal |
Tokens
Aether Swooper
Creature — Vedalken Artificer
Flying
When Aether Swooper enters the battlefield, you get (two energy counters).
Whenever Aether Swooper attacks, you may pay . If you do, create a 1/1 colourless Servo artifact creature token.
Aether Swooper Discussion
5 days ago
Went 3-1 at my pre.
Untethered Express is bonkers if it sticks. And the Aether Swooper cycle of cards work amazing with Yahenni, Undying Partisan and Fabrication Module in a limited environment.
Only time I lost was to a heart of the cards top deck from my opponent while he was at 1 life. Then the following game I decided to start with a hand of 5 land which I never do... and won't in the future lol.
6 days ago
Well, your wishes were certainly answered for AER: