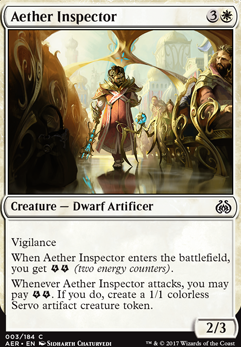 Legality
| | |
| --- | --- |
| Format | Legality |
| Pre-release | Legal |
| Magic Duels | Legal |
| Canadian Highlander | Legal |
| Vintage | Legal |
| Modern | Legal |
| Penny Dreadful | Legal |
| Standard | Legal |
| Pauper EDH | Legal |
| Leviathan | Legal |
| Legacy | Legal |
| Frontier | Legal |
| Duel Commander | Legal |
| Casual | Legal |
| Unformat | Legal |
| Pauper | Legal |
| Commander / EDH | Legal |
Tokens
Aether Inspector
Creature — Dwarf Artificer
Vigilance
When Aether Inspector enters the battlefield, you get (two energy counters).
Whenever Aether Inspector attacks, you may pay . If you do, create a 1/1 colourless Servo artifact creature token.
Aether Inspector Discussion
2 months ago
Some other cards you could use are Sram's Expertise, Anointed Procession also Angel of Invention but from memory that's a little pricy. Shefet Dunes and Desert of the True seem fine in the land base as well. I think Aether Inspector, Eddytrail Hawk, Foundry Inspector and Propeller Pioneer are reasonable cuts as they don't really do enough.Also the module plan isn't that reliable. Assuming no mulligan, removal, draw or scry, the chance of drawing all three modules is: in first hand 2.7%, turn 4 9.7%, turn 8 20%, turn 12 31% etc. (http://stattrek.com/online-calculator/hypergeometric.aspx). Speaking of combo's however, you may not have noticed that Aethergeode Miner goes infinite with two Decoction Modules and some way of benefiting from the loop e.g. Ninth Bridge Patrol or Fabrication Module. However even with a playset of each it's like 17% just to get the loop going by turn 8 with or without a payoff.If you're willing to spend a little $ Metallic Mimic choosing servo goes pseudo infinite with fabrication module and is already a powerful card being effectively a lord in the two drop slot.If you're playing standard you'll probably want a sideboard. An unhealthy amount of Gideon's Intervention is probably in order as it's the only way of protecting against wrath in your colors. Also Anointer Priest for aggro, Ixalan's Binding for The Scarab God and Treasure Map Flip or Sunset Pyramid for control.Anyways good luck with this next time.
1 year ago
Well, your wishes were certainly answered for AER: