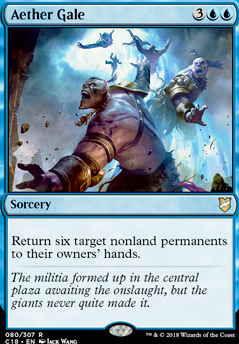 Aether Gale
Sorcery
Return six target nonland permanents to their owner's hands.
Browse Alters
View at Gatherer
Trade
Legality
| | |
| --- | --- |
| Format | Legality |
| Tiny Leaders | Legal |
| 1v1 Commander | Legal |
| Magic Duels | Legal |
| Canadian Highlander | Legal |
| Vintage | Legal |
| Frontier | Legal |
| Pioneer | Legal |
| Leviathan | Legal |
| Legacy | Legal |
| Duel Commander | Legal |
| Oathbreaker | Legal |
| Casual | Legal |
| Commander / EDH | Legal |
Aether Gale occurrence in decks from the last year
Commander / EDH:
All decks: 0.01%
Aether Gale Discussion
6 days ago
troca opportunity por Precognitive Perception , shrine of the forsaken gods eh ruim, dispatch precisa de um deck mais focado em artefato, 19 eh pouco pra consistentemente ter 3 no campo, callous oppressor parece horrivel kkkk, painful truths nao funciona se voce jogar de graca do yennett, troca por um Read the Bones ou Notion Rain ou Dream Cache , o resto parece bem decente, mas vou falar um monte de carta impar que eu gosto: Burnished Hart , Thief of Sanity , Prognostic Sphinx , Scheming Symmetry , Acquire , Aether Gale , Wave of Reckoning eh especialmente bom pq nao mata yennett e mata o resto, Time Wipe , Plague Wind , Generous Gift , Mortify , Gilded Lotus , Imprisoned in the Moon , Mind's Dilation
1 week ago
Mirko Vosk isn't all that great unless he can connect with the opponent. You'll do more mill with your walls than you will with him. Replace him with Avatar of Woe
Sire of Stagnation isn't really on theme here, and is expensive. You're better off with Lord of the Void or Ulamog, the Ceaseless Hunger if you're looking for an impactful creature, but I'd probably choose Geth, Lord of the Vault or Oona, Queen of the Fae since they're more on flavor and are good mana sinks if needed.
You have very little spot removal, Hero's Downfall , Doomblade etc, so be careful there. Also, Black has access to Plague Wind In Garruk's Wake and even Mutilate , and you definitely should be running Cyclonic Rift over Aether Gale . Board wipes are important, and you'll have the largest toughness to survive those "all creatures get -x/-x" effects, so make use of them - Toxic Deluge would probably be the absolute best.
There's good equipment to increase toughness, like Slagwurm Armor and Accorder's Shield , and Illusionist's Bracers on a mortivor or nighthowler is potentially deadly.
Don't forget about Laboratory Maniac , because you can mill yourself.
All those cards that mill opponents when you draw a card are taking away from other cards you need unless you're drawing a ton of cards in a turn. Notion Thief and Teferi's Puzzle Box is the absolute best combo for dimir (imho) and pairs well with those cards, but a lack of Howling Mine like effects makes these cards less relevant to the mill from your walls. Memory Erosion will just do you more work.
Tutoring is important if you're running combo, so don't forget Diabolic Tutor or other expensive ones if you feel like buying them.
Dimir-doppleganger and Lazav, Dimir Mastermind are kind of must haves to make use of opponents' big beefies and eldrazi (if any).
Biggest thing is just remember you're trying to mill a billion at a time, not little bits here and there. If a card isn't milling a ton, replace it with something else that's more impactful. Combo pieces are nice, but without tutoring they're unreliable.
Card I think are a MUST HAVE, though, are definitely Necrotic Ooze , Lazav, Dimir Mastermind , Cyclonic Rift , propoganda, Crawlspace , and Bloodchief Ascension . At least find space for those.
1 month ago
As for cards to remove, though, I would suggest removing cards that try to take your deck in a different direction. If you want to go all in on the combo, then this is what I'd suggest. Crypt Ghast can go. Combo doesn't need extort to win, and you don't have many swamps. Tezzeret the Schemer is even worse ramp. Athreos, God of Passage actually doesn't help your combo, it hurts it by giving control to your opponents. Better to just have more tutors. Aether Gale and Depths of Desire don't do much to support your gameplan, so I'd toss them. It's good to interact with opponents, but if your deck can win without caring what anyone else is doing, that's a good enough reason to focus your deck on protecting your game plan instead of interaction. After all, there's no need to interact with an opponent you can kill.
8 months ago
EDIT - added links
Some Maybeboard cards I think should be in the main deck: Benthicore , Inspired Sphinx , Kederekt Leviathan , Pentavus , Intruder Alarm , and Soothsaying . Myr Turbine and Heartstone are kind of meh, I'd replace with Genesis Chamber and Unstable Obelisk . I'd also swap some counterspells - Geist Snatch , Summoner's Bane and Lazotep Plating in for Cancel , Dissipate and Rewind .
Cards I'd cut: Sage of Epityr , Talrand, Sky Summoner , Bane of Bala Ged , Polymorphous Rush .
Cards I'm not really impressed by: Stormsurge Kraken , Tidespout Tyrant , Windreader Sphinx (depends how much flying you end up with), Sphinx Ambassador , Darksteel Colossus , Pathrazer of Ulamog , It That Betrays . I think it's better to focus on big guys that also have ETB effects than use these.
Some other cards to consider (plus the ones I sent you): Erratic Mutation , Synthetic Destiny , Evacuation , Aether Gale , AEtherize , Crystal Ball , Interpret the Signs , Precognitive Perception , Seer's Lantern , Ugin's Insight , Treasure Map Flip, Zhalfirin Void .
9 months ago
That was a rather rude dismissal of your article, SynergyBuild. Honestly, I'm with Timmy. Anyone who's played with it understands how much better it is than any one of your proposed replacement cards. Seriously, Aether Gale ? You mentioned that there are downsides, but holy cow, it's a sorcery, and if you don't have six things you WANT to bounce, you can't even play it. Maybe some metas would benefit from those cards, but if they can benefit from aether gale, they can sure benefit from cyclonic drift. Rift ends games, and at instant speed, no less. Cyclonic Rift deserves every iota of the hate it gets because it does what it does the best, at instant speed, and with options to cast it for 2 mana or a devastating spell later on.
Also, what was the point of talking about swan song? That's every sorcery or instant, ever. That's not a weakness inherent to rift, speciically. Heck, its being at instant speed means you can just wait until the blue player is tapped out IF there's a blue player at all at the table.
Load more