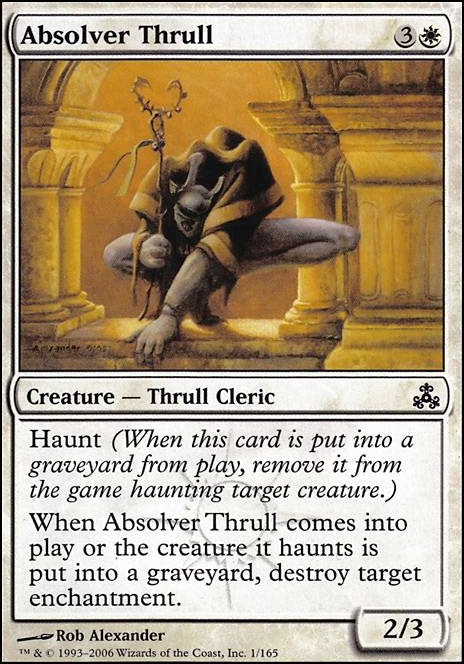 Legality
| | |
| --- | --- |
| Format | Legality |
| Tiny Leaders | Legal |
| Noble | Legal |
| Leviathan | Legal |
| Magic Duels | Legal |
| Canadian Highlander | Legal |
| Vintage | Legal |
| Modern | Legal |
| Penny Dreadful | Legal |
| Casual | Legal |
| Pauper EDH | Legal |
| Vanguard | Legal |
| Legacy | Legal |
| Archenemy | Legal |
| Planechase | Legal |
| 1v1 Commander | Legal |
| Duel Commander | Legal |
| Oathbreaker | Legal |
| Unformat | Legal |
| Pauper | Legal |
| Commander / EDH | Legal |
Related Questions
Absolver Thrull
Creature — Thrull Cleric
Haunt (When this card is put into a graveyard from the battlefield, exile it haunting target creature.)
When Absolver Thrull enters the battlefield or the creature it haunts is put into a graveyard, destroy target enchantment.
Absolver Thrull Discussion
1 week ago
Maybe i should elaborate on the problem i have with this deck right now. In simple terms i dont know how to further improve the deck. Or to be more precise i lack the understanding of the required balance between card-mechanics.
For example i have 12 cards that can draw 10 ramp, 9 recursion cards, and so on. Prior to uploading this deck i had 9 single target removal spells in the deck, but i replaced Devouring Light and Absolver Thrull with Angel of Despair and Ghost Council of Orzhova , because i didnt count Ayli, Eternal Pilgrim as removal yet and to get one "remove anything" card into the deck.
I am almost certain that i have to many utility cards like Fanatical Devotion , Martyr's Cause , Teysa Karlov , ... as well as recursion cards in the deck. I think this deck might not have enough focus. But i cannot improve on this deck on my own anymore. Whenever i want to remove a card i find to important of a reason to not remove it. Hence why i wish for a broader community to judge my work.
1 year ago
Ok, lemme see...
2 years ago
Drag Under is strictly worse than Repulse, Faerie Trickery is almost always better than Cancel, Think Twice is better than Counsel of the Soratami. Rishadan Cutpurse makes your opponent tap 1 land per turn, which does basically nothing... Gulf Squid does basically the same thing but better. Why is Saltskitter even here it does nothing. Ethersworn Shieldmage also does nothing with only 7 artifact creatures, and the fact that witch has it enter on eot. The annihilator 1 from Hand of Emrakul is not enough to warrant it's inclusion, (Crusher is great though). Lens of Clarity wasn't even playable in draft and should never ever be put in a deck, it's basically 1 mana discard a card. Sage of Epityr is better than Sage Owl by a lot. Quite honestly you really need to either cut the artifact theme or go a lot deeper on it, cause right now you're playing 13 artifacts and 3 of them need other artifacts to be good, your Faerie Mechanist will hit like 1 in 4 times meaning you're paying 16 mana to draw 1 card. Scrivener gives you another way to go off with drake as would playing Cloud of Faeries and High Tide. Trinket Mage is like one of the best cards in the format and you have enough artifacts if you add Ancient Den and Seat of the Synod to make it playable plus they make your other artifact cards better. Ash Barrens is the format's new best mana fixing obviously after Command Tower. Treasure Cruise is also legal. You have like 0 ways to interact with artifacts or enchantments, if you want to keep your artifact theme going Dispeller's Capsule is really good, otherwise there's Seal of Cleansing, Disenchant, Wispmare (who can be flickered in response to evoke sac), Absolver Thrull and a bunch of others. Knight of the Mists is tech against the knight player. Also Sea Gate Oracle.
Rhystic Study is great in multiplayer, but garbage mediocre outside of it, Mystic Remora is always nuts. Also pauper edh is a 1v1 format (usually).
No data for this card yet.