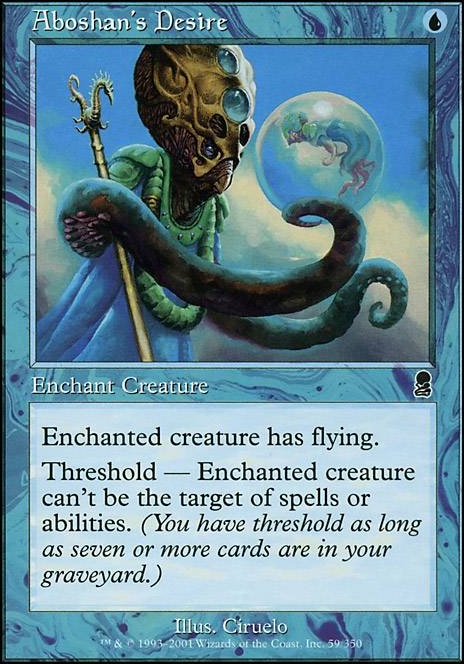 Legality
| | |
| --- | --- |
| Format | Legality |
| Pre-release | Legal |
| Noble | Legal |
| Leviathan | Legal |
| Tiny Leaders | Legal |
| Magic Duels | Legal |
| Vintage | Legal |
| Casual | Legal |
| Vanguard | Legal |
| Legacy | Legal |
| Archenemy | Legal |
| Planechase | Legal |
| 1v1 Commander | Legal |
| Duel Commander | Legal |
| Unformat | Legal |
| Pauper | Legal |
| Commander / EDH | Legal |
Aboshan's Desire
Enchantment — Aura
Enchant creature
Enchanted creature has flying.
Threshold Enchanted creature has shroud as long as seven or more cards are in your graveyard. (It can't be the target of spells or abilities.)
Aboshan's Desire Discussion
2 days ago
Aboshan's Desire, Alexi's Cloak, Diplomatic Immunity, Mystic Veil, Neurok Stealthsuit, Robe of Mirrors, and Whispersilk Cloak are all less than ideal options (but still options nontheless) to stop them from removing your creatures. Unfortunately you can't target your own stuff afterwards with any of the enchants. I looked for hexproof for you, but it was only creatures or instants that did that in commons.
My best suggestion for enchant removal is Qasali Pridemage. It would almost never be a dead card for you. It pumps your infect and protects it from O-ring. Worst case scenario, you chump block with it and sac before damage to blow up something of theirs. Arenson's Aura could be cheeky too, but it is slow.
6 months ago
since its a commander deck this took me a little longer, sorry. I also have a Yidris though so I think I wont be totally lost on this one.
So the biggest things in a Yidris deck is getting combat damage through so you can cascade. You've got a few things in there that do that, however I think you could put in more. Aboshan's Desire is one of my favorites. I would concentrate on getting him through and getting double strike in order to make big plays rather than just increasing pure damage. So I would cut Hero's Blade and Blood Tyrant. Also I don't think Satyr Wayfinder, Rakdos Charm, or Dark Intimations belong.
Also I'm sensing a Windfall and discard sub theme in the deck. While I do like a good wheel effect, and the pre constructed version was built that way, I do think too much of that is unfun for your friends and also not as effective as increasing the consistency of your storm game plan. So if, after adding some of the cards I've mentioned and you're over 100, I'd cut some of the weaker discard and wheel effects like: Nath of the Gilt-Leaf and notion theif are some of the more unfun ones(also they banned leovold for a reason), Dark Deal is the most under powered wheel effect in the deck I think. If you really like the wheel effects, then I think you should forget the storm part and just build a wheel reanimation deck.
I really like the untapping lands concept to fuel your ability to storm off, as such I think you really need Kodama's Reach, Cultivate, and Burgeoning. These, though they seem boring, are absolutely crucial to ramp so you can have one big explosive turn. That said, when you add more land finding you can go down on land. I would say 37 is a good number. Also some a good couple of lands to have would be Cabal Coffers (or Magus of the Coffers and Urborg, Tomb of Yawgmoth.
Some really good storm cards you can add are: Magus of the Will and Yawgmoth's Will (similar to past in flames), Shrieking Drake can bounce itself and you will get as much storm count as you have blue mana, other cascade cards like Bloodbraid Elf,Shardless Agent, and Maelstrom Wanderer are good for casting a lot of spells, the black and blue versions of the expertise cycle Yahenni's Expertise and Baral's Expertise are very good.
I hope this helps, if you have any questions about my ideas, just ask.