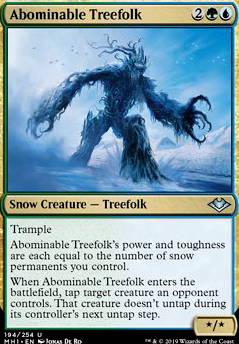 Legality
| | |
| --- | --- |
| Format | Legality |
| Tiny Leaders | Legal |
| 1v1 Commander | Legal |
| Magic Duels | Legal |
| Canadian Highlander | Legal |
| Vintage | Legal |
| Modern | Legal |
| Custom | Legal |
| Leviathan | Legal |
| Legacy | Legal |
| Duel Commander | Legal |
| Oathbreaker | Legal |
| Unformat | Legal |
| Casual | Legal |
| Commander / EDH | Legal |
Abominable Treefolk
Snow Creature — Treefolk
Trample
Abominable Treefolk's power and toughness are each equal to the number of snow permanents you control.
When Abominable Treefolk enters the battlefield, tap target creature an opponent controls. That creature doesn't untap during its controller's next untap step.
Abominable Treefolk Discussion
1 week ago
To be fair, this isn't really what I had in mind for a snow deck. This is more like what SynergyBuild had in mind. Personally, I don't see the upside to adhering strictly to snow cards. Abominable Treefolk strikes me as a bad magic card. Icehide Golem isn't very compelling - and certainly clashes with the likes of Ice-Fang Coatl . A 1 mana 2/2 is usually an aggro card, but Coatl is most certainly a midrange card. And plenty of decks can deal with the Marit Lage token. Humans has Reflector Mage or Deputy of Detention . UW has plenty of removal for it. Tron can exile it with ease. Even Phoenix plays a fun-of Echoing Truth these days. And those are the top 4 decks. Sure, the next few decks like Dredge, Titan, and Burn can't deal with it, but then again I think all of those decks can kill you before you get the token.
In what way are any of the snow creatures besides Coatl better than Tarmogoyf ? I don't mean to be harsh, but I just don't see the payoff cards. Scrying Sheets is real, but Skred demonstrates that the card is fully playable without maxing the number of snow permanents.
1 week ago
lagotripha: i'd have to strongly disagree about Dungrove Elder being "strictly better". first of all, the reason it doesn't see play is because its power and toughness are based strictly off of forests. Abominable Treefolk on the other hand, counts all snow permanents, letting it get bigger much quicker. the loss of hexproof is, imo, outweighed by gaining trample and tapping down a creature that doesnt untap next turn. that means it cant block for 2 turns, and isn't attacking for a turn either.
No data for this card yet.