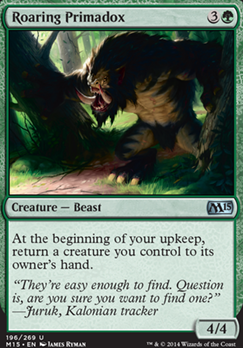 Roaring Primadox
Creature — Beast
At the beginning of your upkeep, return a creature you control to its owner's hand.
Have (14)
calaw00 , ironax , dragonbladeice , LordOrgasmus , about30ninjas , Crow_Of_The_Void , fircat , tjones82 , BlitzOmen , ccsteffen , Abnomallyman ,

P

e

p

s

i

A

d

d

i

c

t

e

d

, 12jonee , poNji
Want (1)
samk125
Roaring Primadox Discussion
2 years ago
Thanks for the suggestions TheGnat A friend suggested to put Roaring Primadox in and haven't had the chance to play test with it in there to see how it goes. I am iffy on that card since it isn't "you may" so I think I may take your suggestion and put something else in there instead not unless I made it more of the focal point of the deck.
as you can see with this deck I'm trying to have a few strategies instead of relying on one so depending on my card drops I'll have a few options available to work with. I am planning on picking up two more Rancor for sure and I do have 2 more Ambush Viper I can slot in.
2 years ago
I think the first thing I'll say after welcome to magic, is to focus down the deck. Right now you have a lot of options, but depending on how you hit them, you aren't going to be as successful in the deck or as consistent. I would look at increasing the number of Vampire Nighthawk to 4, Rancor and Ambush Viper as well. I'd drop the Acidic Slime and card:Akroma's Memorial, both are fun cards, but aren't going to allow you to play as quickly. Something like Roaring Primadox doesn't make a ton of sense either, it gives you an almost flicker ability with Acidic Slime or Elvish Visionary , but I tend to think that it just slows down your deck, and having a single one of them means it isn't the focal point of your deck.
2 years ago
The Roaring Primadox combos with Gravecrawler and the Lotleth Troll . Return her to my hand, discard her, play her from the battlefield, return her to my hand...
The problem with taking out the troll is that without it, I don't really have another win con, and without a big ramp, Geth, Lord of the Vault is fairly slow.
| | |
| --- | --- |
| Power / Toughness | 4/4 |
| Color(s) | Green |
| Cost | 3G |
| Converted cost | 4 |
Legality
| | |
| --- | --- |
| Format | Legality |
| Standard | Legal |
| Legacy | Legal |
| Vintage | Legal |
| Commander / EDH | Legal |
| Modern | Legal |
| Duel Commander | Legal |
Related Questions