Pattern Recognition #55 - Artifact Sets
berryjon 1 February 2018 4723 views

---
Hello everyone! My name is berryjon, and I am TappedOut.net's resident Old Fogey and part time Smart Ass. I write this series, Pattern Recognition, as a means to entertain, educate and something else that starts with an E.
I've teased you long enough with the subject of today's work, and so now I will give you the comment that sparked it off;
Boza said:
I would love to hear your thoughts on what it would take to develop an artifact set that does NOT result in bannings in standard.
Uh...
Yeah....
About that....
Vincent Price, sir? Would you mind expressing my feelings, please?
So, earlier this week (being the time I am writing this, and not the time you are reading this), Wizards handed down their quarterly update to the Banned and Restricted list. And what an update it was! I haven't seen a Standard this gutted since Mirrodin!
While the contents of the bannings are not the subject of today's article, what [i]is[/i] is the larger problems behind Artifacts and the sets that they dominate. Urza's. Mirrodin. Scars. Kaladesh.
There are a lot of words that could be said about the problems, real and imagined with Artifacts and their sets, but given that these are my own thoughts on the matter, I have decided to take up what I think is the single worst problem, and then how to fix that.
To begin with though, a history of Artifacts. They have been in the game since the beginning, and there were 47 of them in Alpha.
And naturally, they have been in every set since then. So, they are kinda here to stay, and I'm not even going to pretend to be sympathetic to the haters out there. I know about you. I've seen you.
Artifacts, and by some extension, all colourless spells thanks to the Eldrazi, fit into a unique position on the Colour Pie. You know, this one..? (source is magic.wizards.com)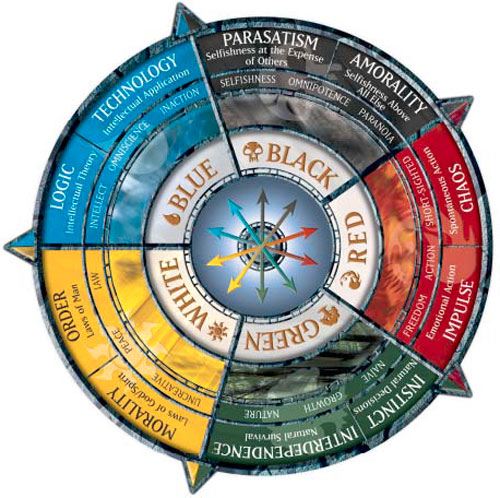 Quick! Point to Artifacts on that!
You can't.
At the start of the game, Artifacts were never meant to be a large part of the game. They existed because, well, what is a good fantasy without some form of mysterious construct that grants powers to the heroes or villains? OK, I admit to stretching there, but when you look at the initial selection of artifacts, what do you see?
If you can't figure it out, or rather, see what I'm seeing, let me tell you. Artifacts were of minor utility. That is, they did things that were either uniformly applicable to all players who had them, such as the Ivory Cup, which works whenever anyone casts a spell. Or perhaps the ever-loved (HAH!) Howling Mine, which gives all players an extra card to draw each turn. Or the Commander staple Sol Ring.
Or the 'what are you thinking?' Sunglasses of Urza.
Yeah Wizards, what were you thinking?
This is not to say that Artifacts were underpowered. There's a reason why six of the Power Nine are Artifacts first printed in this set (the others are Blue. Go figure). But rather, the initial intent behind Artifacts was that they would provide some small backing for each colour, and to allow them to share some small commonality. Or perhaps, as was the case of the Moxen and the Black Lotus, to facilitate cooperation between colours in the dark days before reliable mana fixing.
Then came Urza's Block. This block combined Artifact and Enchantment focus into one block, and suffered massively for the lack of proper oversight that Wizards put into it. Please allow Aaron Forsythe to dredge up some old developers comments about these cards. What little remains in the system.
While it would be easy to blame the developers in the past for their mistakes, and to excuse the same for a game that was still less than five years old, there is more to the problems than that.
Let's take what is perhaps the most quickly banned card in the game: Memory Jar. Go ahead, tell me what you could do with seven extra cards in your hand, all for the low, low cost of exiling an artifact. This card was so powerful that it was banned within days of being printed. And Masticore, which was a colourless and repeatable source of direct damage to a player.
Or Phyrexian Processor. Or Smokestack. Or how about Tolarian Academy and its synergy with Artifacts?
I could spend a very long time complaining about this set, but that's not the point. The point is that Wizards tried, and failed. You'd think they would learn something from this. Right?
Mirrodin.
I recently talked about The Great Machine that came from this block, but there is more to it than that.
Mirrodin introduced Equipment - which I have also addressed previously as a good thing, and one of the most metagame destructive keywords (ugh, gotta stop using that word for a while) in the game. Affinity. Why is this bah-roken?
Free cards. And if there's anything more destructive to the game than Phyrexian Mana, it's being able to cast spells for free. And when you can play Artifact Lands, they then pull double duty! I mean, sure, if you play two Artifact lands on your first turn, you can cast Frogmite on Turn 2 like it was a bear, but what if you also cast, say ... Arcbound Worker on turn 1, then before you cast Frogmite, you cast Bonesplitter on turn 2. Suddenly, you have Frogmite's cost reduced to , and you can equip the Arcbound Worker with the Bonesplitter for the 1 mana you still have available, and swing with a 3/1 on turn 2, that if it dies, makes the Frogmite even bigger!
Oh, that's one of the simpler, easy synergies you could get without even trying. But the real problem with this set came from the Artifact Lands, which cost 0, could go into any deck, and, oh yeah, cost nothing.
So you see the problem here? Artifacts fed into artifacts, and drove the costs of cards down to the point where they were free. Which is a bad thing. Do you hear me? Free cards are bad!
And you'd think that Wizards would have learned their lessons, right?
Right?
Oh god, Scars block. I ... I have words I want to say about this, but they will have to come later. There's something here I need to address, that I've been dancing around for a while now, and it is the crux of why Artifact sets need major changes to the assumptions in how they work.
Finally, the set that has caused the most recent kerfluffle. Kaladesh. As an Artifact block, it did a lot of things right that the previous ones missed. However, it also did a couple of things wrong. The first is first exemplified by the banned Smuggler's Copter.
This card is a great many errors compounded onto a single sheet of cardboard. First is that it is more efficient than so many other creatures with a converted mana cost of . It's a 3/3 flyer! Whenever it attacks or blocks, you can Loot! All for the low, low drawback of only needing 1 power to Crew.
I've said this before, and I'll say it again. Rarity is not a factor in card balance. Anyone who says otherwise doesn't understand how the secondary market works. So if anyone wants to say that because Smuggler's Copter is a Rare, it is balanced, I pre-emptively laugh at you.
But believe it or not, it's not actually this poor over-achieving card that's bending Standard over its knee, though it certainly did a good job of it. No, it was Aetherworks Marvel that really got the ball rolling on just how bad Kaladesh made things.
No, not because it was essentially a free casting of Emrakul, the Promised End thanks to the addition of aggressive Scrying effects. It was all for the low, low cost of 6 Energy.
Energy. Energy. I've played games with multiple resource types, and here's the thing - from Settlers of Catan on up, alternate resources have a degree of equivalency. Which is what Energy fails at having. Take, for example, the also-recently-banned Rogue Refiner. Stripping it down, it's a a Bear, a 2/2 for , but when you add the to the casting cost, it suddenly gets +1/+0, you get a cantrip effect (which by itself costs ), and two Energy! Does this mean that Energy has a negative value when compared to simple mana?
What the hell, Wizards?
Ok. So, alternate resources are a problem. Energy was an experiment that needs some serious work, but it can work. It needs to have a firm equivalency in mind when compared to other resources, and just slapping it onto cards at random (coughAttune with Aethercough) doesn't work.
And here it is. Time to back track and pull out one of the primary reasons why Artifact Sets get such a bad rap, where Wizards really dropped the ball, and let Design and Development get their heads up their asses. And I mean that.
Mutha'fukin NEW PHYREXIA.
If that doesn't get your blood boiling in anger, you're a Spike, Power Gamer.
For those of you who are confused, allow me to explain. Phyrexian Mana, as you see in the five symbols above, allow you to replace a single coloured mana (but bot as that came later) with the payment of two life.
This, after a moment's though, is horribly, horribly broken. Fetchlands, sure, they pay two life for a land, but the land isn't one-use. You can use that land as many times as you want for the initial cost in life. But then, I want you to compare the banned-in-Modern Gitaxian Probe with Peek. You see the difference? The people who made this set decided that they could do better by allowing you to pay life for a card, rather than a mana cost.
When I worked for my LGS, I did some Deck Doctoring. Which meant I would give feedback on a deck to people who asked, assuming I had the time. It was a store, you know, and Doctoring didn't earn money except through what I could sell to help improve the deck. Anyway, this person wants me to check out their deck, so I flip through it. It's a pretty standard Tier 2 RW Land Destruction Deck in Modern, except that it had four Gitaxian Probes, and no sources of Blue mana.
Why?
Because the card was effectively free, it replaced itself, and to this player, the 2 life didn't matter! Their deck got to be 56 cards, effectively!
So, here's the crux of the problem; Phyrexian Mana broke the colour pie. With it, you didn't need to have coloured sources, you just needed a life total. And as I, or any Spike, Power Gamer will tell you, the only point of life that matters is the last one. Your life total became an alternate resource, and one that you could trade in place of a mana cost, instead of in addition to it.
But how does that tie back into Artifacts? Because, when you look at it, Phyrexian mana went on non-artifact cards. In fact, I don't see any Artifacts with Phyrexian mana in their costs at all!
It's because Artifacts break the Colour Pie. When you get down to it, having something that can go into any deck, regardless of mana base, or colour distribution, and be an effective, if not key component in that deck, then you have to consider the possibility that something has gone wrong. That Smuggler's Copter did so many things, and was accessible to all colours made it even more effective at what it did. To the point where more decks had it than not!
Artifact sets, in effect, dont' work because they blur or outright remove one of the most fundamental aspects to the game: That Colours are Different. I mean, I just spent four weeks pointing out how they are different at the Combat step for Urza's sake!
And so when you get a set that favours colourless without restraint, you get problems.
So, back to the question at hand; how would I, or anyone design an Artifact set that doesn't result in bannings in Standard?
Well, if I could do that, I would have done in less than 12 man-hours of work what Wizards' Design and Development teams have failed to do for 20 years. I'm good, but I'm not that good! But, I do have a couple of ideas.
The first way is divided into two parts. The first is to go the route of Sarcomite Myr and Mage Slayer - Artifacts that have innate colours to them, allowing you to treat them like just another piece of the colour pie. The Shard of Alara "Esper" () did this, and I think it worked out great! Artifacts were their own thing, but they didn't dominate as they incorporated aspects of their parent colours like any other permanent.
The other half would be to keep the generic casting costs, and have the cards do something, but allow them to be better or more through the use of coloured activation costs. Such as with the Puzzleknot Cycle from Kaladesh. This cycle is exactly the sort of thing to bridge the gap between "anyone gets full power" and "everyone gets something, but you have to invest to get the full deal".
Option 2 is to not bother. Leave Artifacts as a minor support structure in the game. Don't try to go overboard with them. But that won't happen. I mean, I measure time in Magic by the appearance of the next Artifact Set (every 7 years, give or take)! Which means the next one should be in ... 2023. Let's see what lessons Wizards has learned for that one.
Artifacts are an indelible part of the game. In a way, the system doesn't work without them as they provide a solid backup to each of the colours, and act as a form of glue to keep them together. It's just when the sets start being about them, rather than having them that things go wrong.
Thanks for hearing me out, and I'll see you next week when I talk some math, and why one of the assumptions people make, from beginners to experts is wrong.
Until then, please consider donating to my Pattern Recognition Patreon. Yeah, I have a job, but more income is always better. I still have plans to do a audio Pattern Recognition at some point, or perhaps a Twitch stream, and you can bribe your way to the front of the line to have your questions, comments and observations answered!